Last Updated on: 16th November 2023, 07:59 pm
Losing weight can be daunting.
The idea is always attractive, but as we begin different programs we run into obstacles, stalls, physiological side effects and frustration.
This can often cause us to jump from diet to diet, program to program, trying to find the one that works best for us. Unfortunately, diets take time and our bodies have to adapt before we start to see results, and to be brutally honest, there are times when you will be hungry on a keto (or any) diet.
An effective diet takes patience and discipline, but when we are trying to prioritize in a fast-paced environment, we sometimes need help. In this article, we go over these 5 popular keto meal replacements, a genre of supplements designed to help to begin or maintain a keto diet.
Kiito Meal Shake
Ketologie Collagen Keto Shake
KetoLogic KetoMeal
Sated Keto Meal Replacements
Intentionally Bare Organic MCT Oil
What is a Keto Diet
The keto diet derives its name from ketones, a water-soluble compound produced through the burning of fat.
The resulting metabolic process is called ketosis, where the body favors burning fat over glucose to provide energy. The longer our bodies are in ketosis, the greater percentage of ketones we have in our blood and tissues, leading to many documented benefits.
However, the body takes some time to become what's called fat-adapted, where ketosis is efficient and comfortable.
The transition phase needed to become adapted can result in feelings of nausea, digestive issues, headaches and other symptoms contributing to general discomfort. These symptoms are temporary but can be a cause for some to give up on the diet.
Benefits of a Meal Replacement
In order to quickly reach and maintain ketosis, a strict set of guidelines must be followed with restrictions put on the number of carbohydrates consumed, percentage of a protein/fat dietary makeup, and caloric intake.
In order to make this transition easier for consumers, keto meal replacements were created to both help dieters get into ketosis faster, and to maintain it for a longer period of time.
Here we go over 5 of the most popular keto meal replacements on the market, and why they might be the best choice for you.
Keto Meal Replacements
If you don't have time to adhere to a strict diet, yet still want to achieve weight loss and a healthier lifestyle through the keto diet, finding an effective meal replacement might me your x-factor. Here are 5 popular products to start with.
These plant protein pre-made shakes pride themselves in being keto and vegan friendly, with no artificially added flavors or oils.
They use a unique blend of coconut cream, superfood and adaptogens to produce a delicious and efficient meal replacement perfect for those on the move. Each serving is pre-packaged eliminating the need for blenders or other ingredients. Just refrigerate and go.
Customer reviews of the product praise the taste as well as the lack of "confusing ingredients" on the nutritional label. At the moment the three flavors offered at Chocolate Maca, Vanilla Ashwagandha and Matcha Moringa. Cases of 6 or 12 bottles can be purchased online, and flavors can be mixed and matched.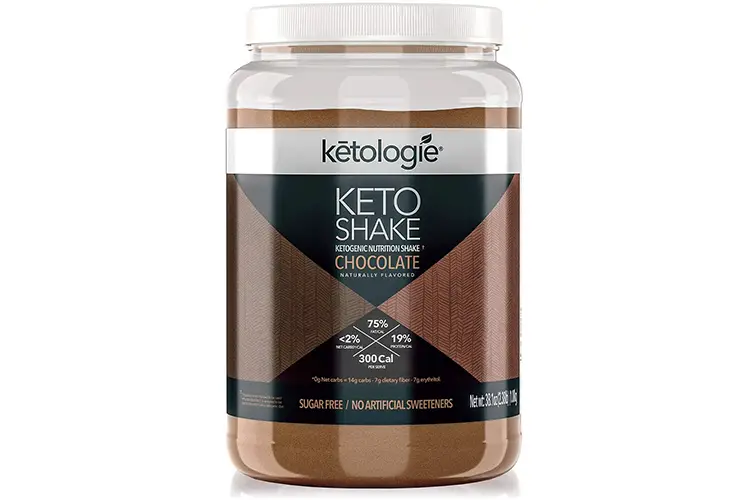 Instead of plant-based protein, the Ketologie shake uses grass-fed bovine collagen protein shown to provide various health benefits. With the two traditional flavors of vanilla and chocolate, this shake is sure to appease sweet cravings often associated with the keto diet.
For those who have a particularly pronounced sweet tooth, this shake could be worth looking into. Due to its relatively high protein content, it can be used as both a meal replacement or a post-workout recovery drink.
Customer reviews of this shake seem to start with exclamations of the incredible taste, and many then go on to discuss the unique benefit of being able to add the chocolate flavor to coffee for a smoothly blended butter texture.
For those who are on their keto diet and looking for a way to increase their fat intake in the morning, adding the Ketologie Collagen shake to your coffee seems like a proven option.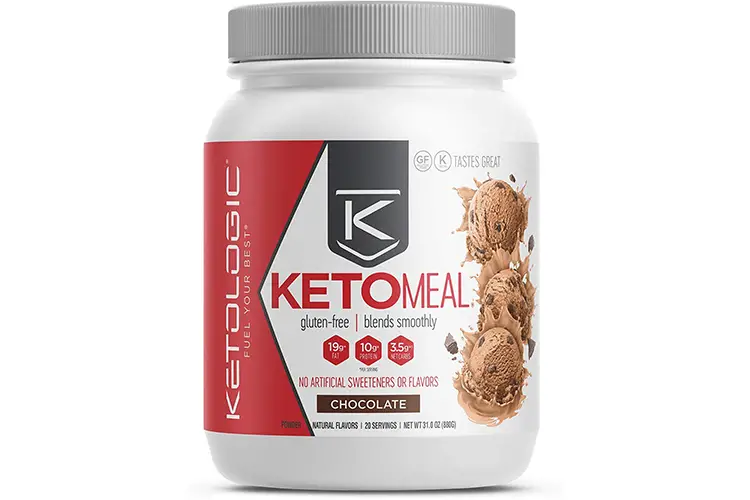 With a variety of flavors available (Salted Caramel, Chocolate, Strawberry and Vanilla), the KetoLogic Keto Meal is perfect for the fussy keto dieters.
It focuses on optimal macronutrient levels tailored to a keto diet, unlike other meal replacements that can be used for Paleo, keto or vegan plans.  It blends smoothly, preventing any chalkiness. Packed with fats, this meal replacement is very effective at reducing cravings and keeping you fueled.
A word of warning, KetoLogic KetoMeal uses a large amount of MCTs which from time to time have been shown to create gastrointestinal distress in new customers.
As per product advice, it is recommended to increase your natural tolerance slowly by starting off with a portioned amount of mix.
Customer reviews enjoy the versatility of the shake, easily mixed with hot and cold beverages and coming in a range of equally delicious flavors.
While some do complain of an upset stomach when starting out, those who lower their intake see a quick adaptation. KetoLogic also provides customers with a range of products and online educational resources to learn more about the keto diet.
Sated (formerly known as Ketolent) offers a few different options of keto meal replacements, from their ready-to-go bottled shakes to their powder and oil shake combo.
Using monk fruit, fiber, and erythritol, these Sated shakes are sweet, clean and full of flavor. Not only are they one of the sweetest on the market, but they have a long list of nutritional vitamins and minerals to ensure a balanced replacement.
Customer reviews seem to heavily praise the convenience of the pre-bottled shakes, as well as recommend the chocolate flavor over the vanilla. For those who find the pre-made shakes too sweet, the DIY powder products are a good option.
With zero net carbs, this Organic MCT Oil supplement by Intentionally Bare has been highly recommended by customers.
While it is not marketed as a meal replacement specifically, it is designed to suppress cravings and provide needed fuel using coconut-derived MCT oil.
For those who need that extra boost to get into ketosis or those who want to stay there, this product can provide a great result.
Customer reviews actually praise this product's lack of taste as one of its more desirable features. As it is recommended to be used as a supplement and added to shakes, coffee or even your baking, the unnoticeable taste makes it convenient and effective. Due to the overwhelming support for this product, we couldn't leave it off our list.
Summary
Finding the ideal keto meal replacement might take a bit of trial and error, but hopefully, we have given you a good place to start.
Ultimately it is recommended to use these replacements as supplements and to not rely on them completely.
Many people have also found success combining them with other diets – to bring a bit of vartiation to the beef and butter fast, for example.
Like everything else, a proper diet is about balancing your consumption and not overdoing it.
Remember, be patient and the results will come. Happy keto-ing.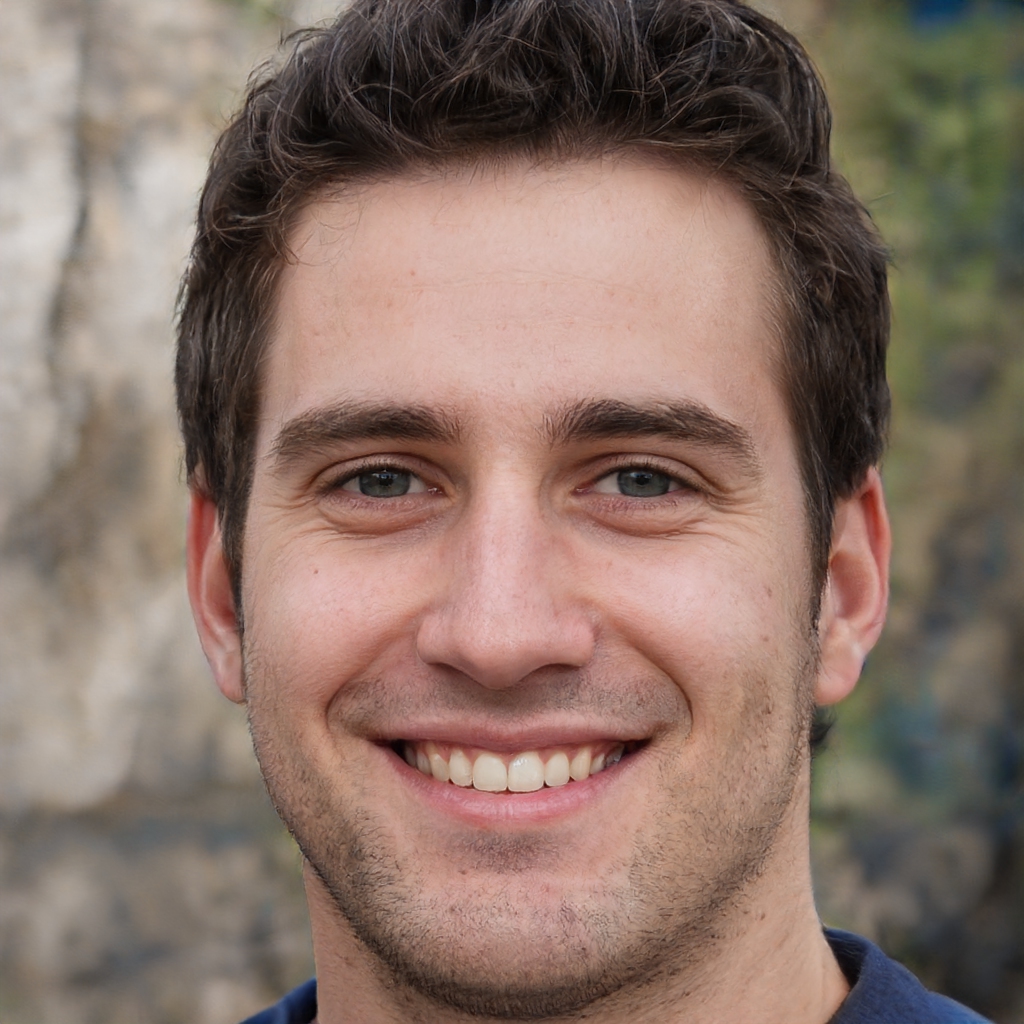 Florence, aka Flo, is the lead editor at keto.fm. Obsessed with nutrition, Flo used the keto + a one meal a day (OMAD) diet to lose 50lbs in under half a year.
After experiencing the benefits first, both mentally and physically, he became one of the many keto ambassadors online.
He is currently working towards becoming a NASM Certified Nutrition Coach.