Get to know her!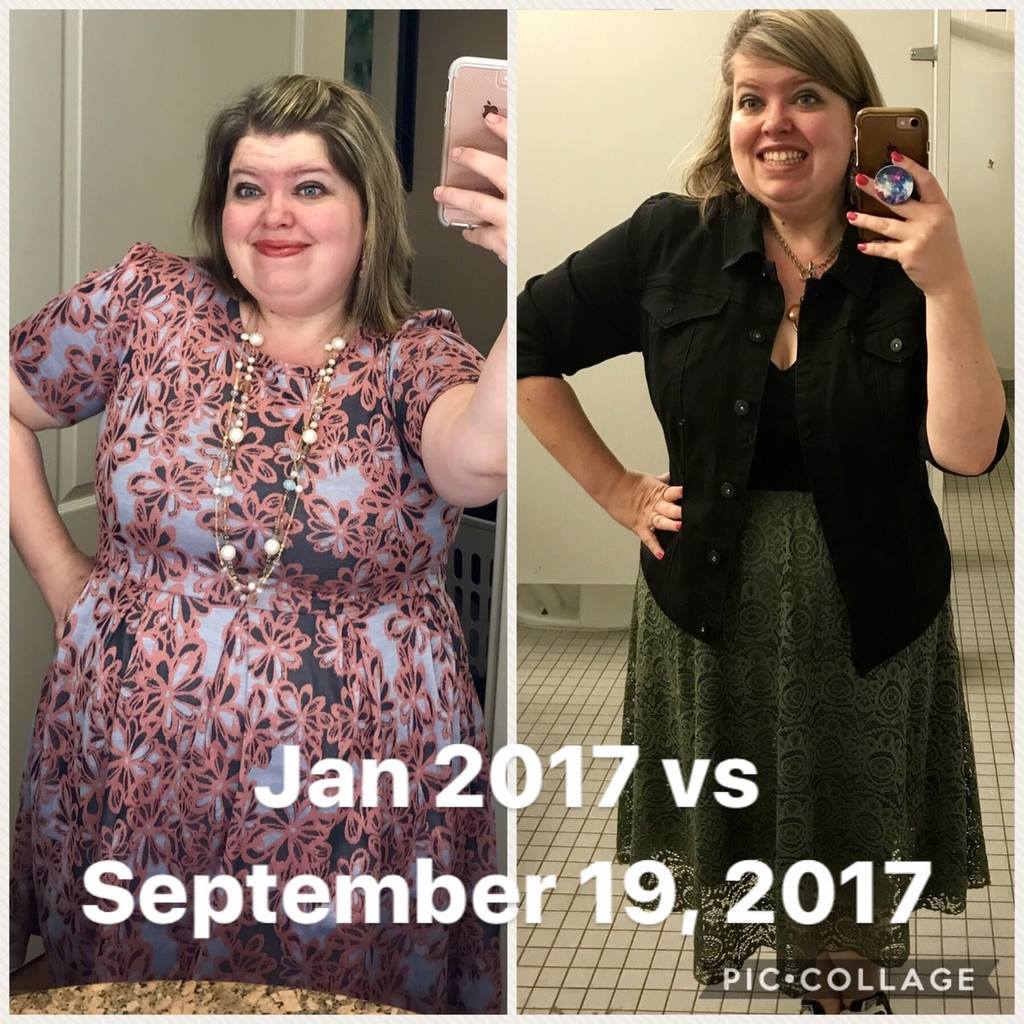 5 ft 5 in height
  Female
  31 years old
  Keto-ing for 9 months
  Started at 263 lbs
  Lost 69 lbs so far
  Wants to hit 150 lbs
  Prefers a "Meat, but no dairy" diet
Tell us a little bit about yourself!
I am a High School Reading Intervention teacher, which means I work with teens who enter high school with a history of reading deficits and work to help them graduate. Currently, I'm finishing up my final semester of graduate school. In December, I'll graduate with a masters in Curriculum and Instruction with an emphasis in Reading Intervention. In my free time, I enjoy drinking copious amounts of coffee, reading books, traveling, and taking care of my chickens.
Habits & Mindset
What motivated you to try keto?
I remember the moment I admitted I was headed down a dangerous path. I had just returned from presenting at the 2016 NCTE conference in Atlanta, and I simply couldn't keep up with the people I traveled with. I was out of breath and sweaty the entire trip (it was November and 40 degrees). On top of that, I almost couldn't fit in the airplane seat and made the people sitting beside me uncomfortable.

It was so embarrassing. I remember sitting on the couch the following week, depressed and feeling sick. I felt so low! I remember tearing up, thinking to myself — 'I guess this is my life. I will always feel sick.'

The following month, I had dinner with my friend Christy, who had lost 70 lbs eating a ketogenic diet. I told her how bad I felt and she simply said, 'You know Rebecca, you don't have to be fat and sick. You could choose a different way of life.' I was so used to people telling me that I wasn't THAT big, calling me cute, and watching as I ate myself into the grave. Her frankness was just what I needed to have hope! She coached me from day one by helping me figure out what to eat, encouraging me when I felt discouraged, and answering all of my questions.
How often do you cheat on keto?
I cheat rarely and never on purpose. The only times I've cheated are when I didn't look up the nutritional info of the food I was eating. Food isn't as tempting as good health!
How do you get (back) into ketosis?
I intermittent fast Monday to Friday for 20 hours and eat my calories in a 4-hour window. Every morning, I drink a dairy-free version of bullet proof coffee, which helps keep me full until dinner.
Do you track your weight/ketones/blood glucose/macros or anything else?
I track my weight every day, which many frown upon. The scale rarely discourages me because weight loss is anything but linear. I just trust the process. I track my macros nearly everyday using an app called Cronometer. It's very easy and holds me accountable.
How supportive were your friends & family when you started?
My husband was supportive as he changed his lifestyle with me. With that said, many people from work and family worried about two things (1) my health, since I eat a diet so contradictory to the standard American diet and (2) my ability to stay on a ketogenic diet in the long term. In spite of the negativity, I worked hard to stay educated on this way of life! I knew I needed knowledge and science in order to convince others that I was, indeed, healthy.
Has your weight loss ever stalled?
Oh my goodness, yes! I was stuck at 211 the entire month of July and 208 the entire month of September. I started fasting on weekends and cut out dairy — fasting to help with my IBS and dairy because I had long suspected that I suffered from a dairy intolerance. Both decisions pushed me through my stall.
What other benefits have you noticed?
There are MANY benefits, but here are a few three main ones I encountered: (1) My IBS cleared up almost completely. I've suffered from painful, persistant IBS since I was 17. It turns out that I suffer from many food intolerances/allergies. (2) Speaking of intolerances. I learned that I also have a gluten sensitivity. That gluten sensitivity caused persistent nerve pain and joint inflammation for years. These plagued me and cleared up within 6 weeks of starting a ketogenic diet. (3) I'm no longer depressed! Weirdly enough, the brain fog and depression are gone, which makes my entire life easier.
Did you encounter any obstacles to pursuing keto?
Not really. I try to keep my diet simple by consuming whole foods.
Have you had any side effects to keto?
I had some constipation and had to start counting net carbs and taking a probiotic. Worked like a charm.
Food & Fun
What's your typical day of eating look like?
Breakfast: Dairy-free Bullet Proof Coffee (coconut milk, coconut oil, MCT oil, and Stevia). Lunch: Coffee and water. Dinner: Some sort of seasoned meat/eggs with veggies, such as cauliflower, greens or asparagus.
What's your favorite home-cooked keto meal?
These low-carb waffles! I love breakfast so much! I like adding blueberries or nuts to it!
What's your favorite restaurant meal?
Outback Steak House. I always order a prime rib steak with seasoned brocolli and shrimp.
What's your biggest non-keto temptation?
Probably pizza and ice cream! It's been 11 months and I haven't caved.
Anything else you'd like your readers to know?
Don't cheat. It's not worth it. You are worth loving, and one way to love your body is to take care of yourself! Every bite, hour of sleep, and investment counts.