Last Updated on: 5th January 2023, 07:01 am
Intermittent fasting is far more than just the latest fitness trend… It's an evidence-based way to lose weight and it also provides a number of other benefits- from lowered blood sugar to increased energy.
So, you're here because you're interested in starting to intermittent fast or perhaps because you're already doing so. There are a number of different intermittent fasting methods but one problem unites them all…  It can be really difficult to fit intermittent fasting into a hectic lifestyle. You want to make sure you get the benefits but it seems like there is a lot to remember.
That's where this list comes in handy. We've tried and tested the best intermittent fasting apps so that you don't have to. All of these apps are suited to all major fasting methods.
1.    Zero
If you want to keep things simple, Zero is a great choice for an intermittent fasting app.
The interface looks great and it's really easy to use. Zero provides an easy way to log your fasting goals and to track them with ongoing timers throughout the day. You'll never forget that you're supposed to be breaking your fast with this app!
This app also has a library of useful tips and videos as well as additional information and ways to review your own data weekly, including a useful mood tracker.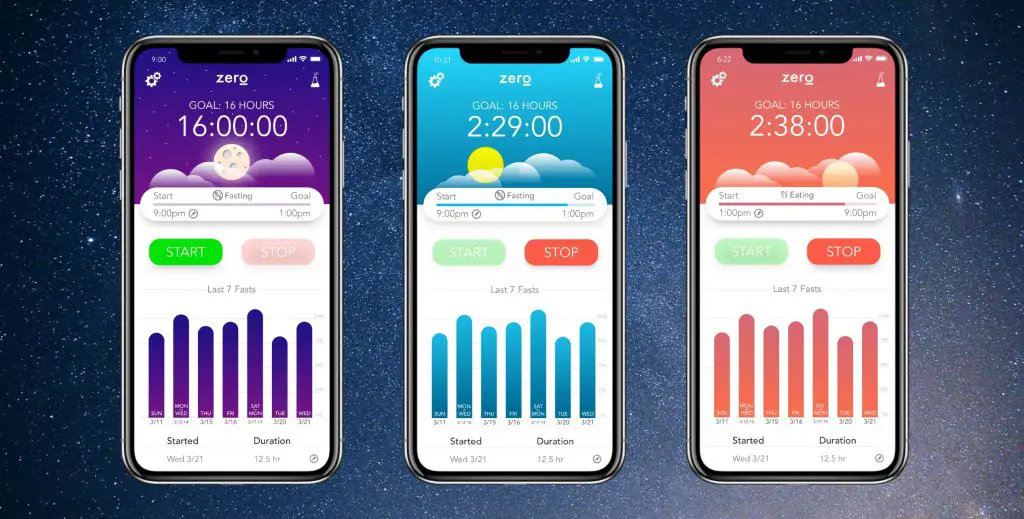 All of the apps on this list offer a number of benefits but we feel that this app has the most to offer. DoFasting not only allows you to log your fasts, food and water intake, and track your fasting data but it also offers meal and even workout ideas.
Intermittent fasting can be difficult when it's something that you do in isolation but having nutrition ideas can allow you to hit your calorie targets and stay on track with fasting.
The recipe ideas in this app are provided alongside a wealth of informative articles, both of which are written by nutritionists and experts. What's more, all of this information is personalized so you are getting a thorough intermittent fasting plan to suit you!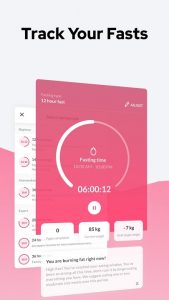 3.    Ate Food Journal
If you are looking for a visual way to track your diet as well as track your intermittent fasting cycles, Ate Food Journal is a great option.
It only takes a few seconds to take a quick snap of your food and upload it into the app and it's great to have a visual journal to check back over.
In just a couple of seconds, you can see exactly what you've eaten as well as the amount of time that passed between meals.
This app is really a great reminder of the importance of eating consistently good quality foods rather than just intermittent fasting alone.
4.    Fastient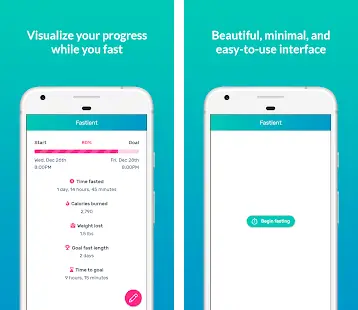 While it can take a little longer to use Fastient than it can some of the other apps on this list, it's a great option if you want an intermittent fasting app that's incredibly thorough.
You can easily record food intake, add your own notes and view your data in graphs. These graphs are really useful for viewing your weight loss over time as well as your longest fast periods.
The progress bars make fasting really satisfying too!
5.    BodyFast
BodyFast offers a lot of the benefits of the apps we've discussed so far with one other great feature. Not only does BodyFast allow you to track the food you've eaten and provide a reminder of water intake but the individual coach feature calculates your optimal fasting plan for you based on your goals.
The only negative thing about this app is that some users have noted that they don't receive notification from it.
Overall, though, this is a great app to go for if you're not sure which fasting method to go for or you want to try a new one out.
6.    Vora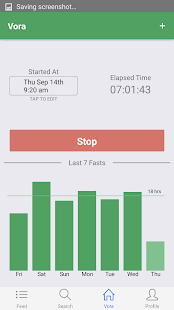 Intermittent fasting is a very personal habit for some people but for others, the motivation of a community really keeps them going.
Vora is a great intermittent fasting app because it allows you to connect with others and motivate one another.
Vora also has a great graph system with a useful feature that clearly shows the last couple of days of fasts.
7.    FastHabit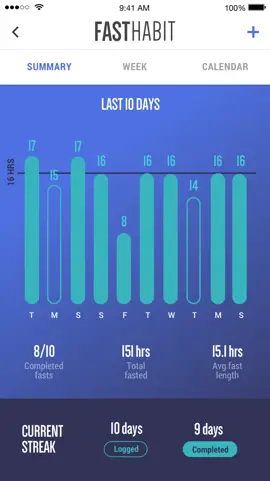 FastHabit is another great app to check out if you like the idea of comparing your recent days of fasting progress.
The "streaks" feature in this app is awesome as it lets you know how many days you have successfully fasted for which, if you have a competitive edge, definitely works to keep you on track. You have to pay for this feature but it's definitely a great one for many people.
If you have an apple watch, this is a great choice because it is incredibly easy to export data to your watch from this app.
8.    Life Fasting
If you're looking for a totally free intermittent fasting app, this is a good option. You can again use this app to connect with other people as well as to read useful weekly added articles.
The only downside with Life Fasting is that it is a little more difficult to use than some of the other apps on our list because it's slower.
Still, the icons and interface are clear and there isn't an overload of information which is great if you just want something a bit more simple.
The Best Intermittent Fasting Apps
All of the apps on this list are sure to improve your experience with intermittent fasting but we've made sure to highlight the features that make each app great for different people.

Remember to bookmark this page to return to when you're ready to download!