Last Updated on: 14th November 2022, 08:50 am
Weight loss is generally one of the primary goals that people have when they start with the keto diet.
The keto diet reduces carb intake and helps the body burn more fat – by eating a higher amount of healthy fats. Regular diets are no longer followed, as the keto lifestyle requires restrictions to be placed on the consumption of carbs.
Keto works, but it's not always easy to follow, and we're all looking from something to make keto easier or more effective. Launched back in 2003, for many people, Beverly International 7-Keto Musclean has been that something:
Designed for people on a Keto diet? Yes.
Designed to help you lose fat? Yes.
Designed to increase lean muscle? Yes.
A two-pronged attack on weight
When you eat less, your body reacts by conserving energy by slowing your metabolism and producing less muscle. This supplement makes a two-pronged attack on weight:
increases metabolic rate – this is the rate in which you burn energy when resting, in other words you can use the magic of thermogenetic supplements to burn fat and lose weight without exercise (well, almost, more about that below).
prevents muscle loss from dieting – when we say we want to lose weight, what we really mean is we want to lose fat. One of the key problems people face when they stop eating is they lose muscle, and this can leave you looking (and feeling) worse, not better.
Supplements specifically for Keto
Supplements can help with many health goals, including losing fat and gaining muscle, but people on a keto diet often feel restricted on what they can take. 
Luckily, Beverly International 7-Keto Musclean is a weight loss supplement specifically made for people who are following the ketogenic diet.
This review looks at the formula and benefits, while also considering whether there are side-effects you should know about. This information helps you make an informed decision when buying a weight loss supplement.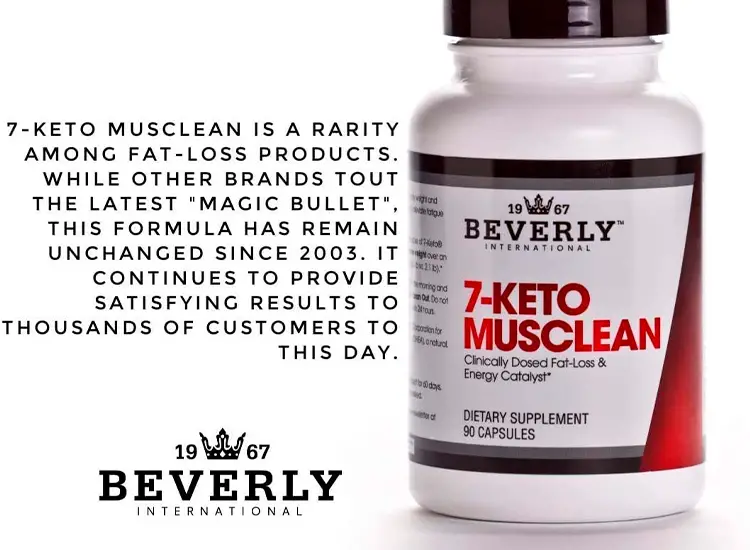 Beverly International 7-Keto Musclean is a dietary supplement. The supplement comes in the form of a capsule, making it easy to use.
In case you' re wondering, the "7-Keto" part of the name refers to a product trademark ingredient. It contains 7-keto DEHA (7-keto-dehydroepiandrosterone if you're scientifically inclined), which has been shown in clinical trials to increase the resting metabolic rate.1
Your metabolic rate is the amount of calories you burn just doing enough to stay alive; basically the amount of energy you would use if you just lay in bed all day. The theory behind 7-Keto is simple enough: if you increase the amount of energy you use when you're doing nothing, you'll burn calories and lose weight – you guessed it – while you're doing nothing. It's the dieter's version of heaven.
The theory behind 7-Keto is simple enough: if you increase the amount of energy you use when you're doing nothing, you'll burn calories and lose weight – you guessed it – while you're doing nothing. It's the dieter's version of heaven.
To make this happen even more effectively, the capsules contain a unique formula that was developed to focus on increasing fat loss during physical activity. This is what's known as a thermogenic supplement, which means it focuses on raising the core body temperature. Raising the core body temperature takes energy, and to get that energy, the body burns fat. 
What makes the supplement unique is the fact that its formula doesn't only focus on helping you lose excess fat in your body, it preserves muscle as well.
Many people find that they experience a reduction in lean muscle mass as they lose weight when using a dietary supplement. The ingredients in this supplement preserve muscle mass while you are reducing your body weight.
User Reviews:

What Are The Benefits?
There are a few benefits that we can mention when considering the supplement. The biggest benefit is the retention of muscle mass while losing weight. This is something that a lot of alternative supplements fail to address.
When losing muscle mass along with fat, then you are reducing the support provided to joints – which means working out will be harder on your joints and bones. It also makes the process of toning your body harder. 
Other benefits that are also worth noting include:
The supplement offers a multifunctional formula. While the main function is to act as a thermogenic substance, the product also helps to curb your appetite. Researchers have previously found that a reduction in appetite may be an effective way to reduce daily caloric intake.2 The approach would make it easier for a person to achieve a caloric deficit in their daily life, which ensures excess fat can be reduced more effectively. 
The ingredients in this supplement have been carefully selected. The formula is very different from other weight loss supplements on the market. Both men and women will be able to utilize this formula without any gender-specific side-effects.
A full overview of all ingredients included in the formula can be found on the label. This ensures transparency, giving you the ability to understand exactly what chemicals and compounds you will put into your body if you take the supplement. The ingredients label also helps you determine if there might be possible interactions between the formula and prescription drugs you take – something that you always need to watch out for when trying out a new supplement. 
Who is it Ideal For?
The manufacturer sees three main types of people who would benefit the most.
Scenario 1: Take Your Diet to the Next Level – For a while, your workouts and improved eating habits (like eating fewer carbs) were causing you to lose weight. But after a few months, you hit a wall and couldn't get any leaner. If this sounds like you, 7-Keto Musclean can help you get back on track, delivering up to three times the fat loss of exercise and diet alone.
Scenario 2: Get the Weight Loss Edge Over Aging – As you've gotten older, you've noticed that your metabolism is slower and you gain body fat more easily. 7-Keto Musclean can help you reverse this scenario by stimulating your metabolism to burn fat more like it did in your youth. It's the weight-loss pill that gives you an edge over aging.
Scenario 3: Getting Shredded – You've been hitting the weights hard in an effort to gain lean muscle. Now, you're looking for an edge that will help you get shredded. But you don't want to take anything that might hamper your muscle gains. 7-Keto Musclean is perfect fit. It will help you maintain your hard-earned muscle while you melt away the body fat on top.
Are There Drawbacks And Side-Effects?
When it comes to looking at the Beverly International 7-Keto Musclean supplement, there are a few possible side-effects that we need to mention.
While the supplement seems to be a safe option for most people, you should be cautious if you experience jitters when drinking coffee. This is because there is a relatively high concentration of caffeine content added to the formula. 
Caffeine is a type of stimulant.3
It is known to be highly effective at reducing appetite and even boosting performance. Some people, however, have side-effects when they use a product that contains caffeine. This can lead to a fast heart rate, as well as other complications. 
Also, be sure to take note of all ingredients in the supplement. If you are taking any OTC or prescription drugs, be careful – ensuring that interactions will not occur.
Interactions may cause a more significant impact on the medication used or cancel out their effects. This can be dangerous if you have a chronic disease that depends on the daily intake of your prescribed drugs. 
How To Use Beverly International 7-Keto Musclean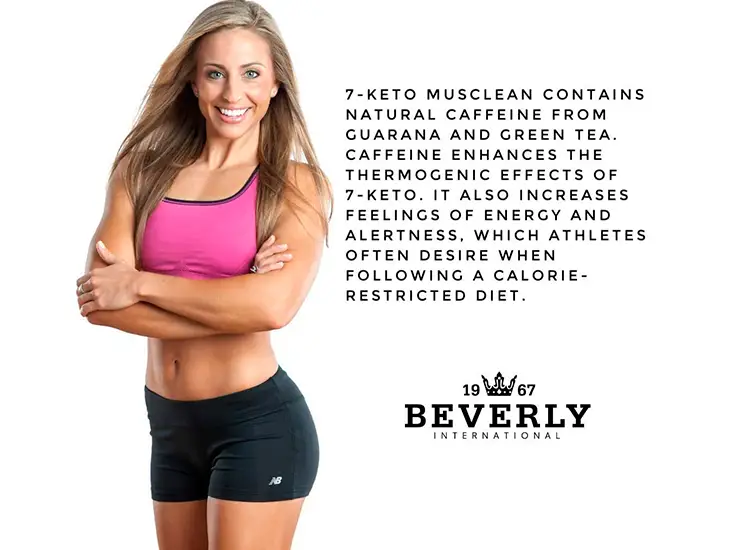 The Beverly International 7-Keto Musclean supplement is easy to use. There is no need to measure out a liquid or powder when taking the supplement. Instead, the supplement comes in capsule form.
The capsules have pre-measured contents, ensuring you can simply take them with a glass of water. There is also no need to prepare special smoothies if you want to take the supplement. 
The container comes with 90 capsules. You need to take three capsules each day. These three capsules form a single serving for the day. One serving per day gives you an adequate supply of active ingredients to experience the expected benefits. 
It is important not to mix the supplement with other pre-workouts. Many pre-workout supplements focus on boosting your energy through the inclusion of a stimulant, such as caffeine.
The Beverly International 7-Keto Musclean supplement already contains caffeine as a stimulant. Taking too much caffeine may cause sensitivity and jitters. 
Maximizing Your Results
Beverly International 7-Keto Musclean has the ingredients you need to lose weight while preserving lean mass but will not work effectively alone.
To maximize your results, make sure your keto diet includes healthy sources of fat and protein and that you obtain all essential micronutrients your body needs.
And, if you want to make it more effective, there's no substitute for implementing an exercise plan that helps you burn calories while also focusing on strength and lean mass. This combination leads to more successful results while using the supplement. 
Final Verdict: Will This Supplement Help You Lose Weight?
If you follow the keto diet with the goal of losing weight, then this supplement might be a good option to consider.
The supplement features a formula that promotes a thermogenic effect in your body. By increasing your core temperature, you end up burning more fat when you exercise.
Another major benefit of the supplement is the ability to preserve your muscle mass, ensuring you do not lose your muscle tone while reducing your body fat content. 
To sum it up, Beverly International 7-Keto Musclean has a history few supplements can match. It dates back to 2003, and has to have potential. Many people report effective results when combining the supplement with an appropriate keto diet and exercise program. While safe for most people, those with sensitivities to stimulants should be aware of the ingredients used in the product. 
Similar Products
If you're interested in other products that combine weight loss and muscle building, take a look at our Orgain Keto Collagen Powder Review on a product that combines collagen with MCT oil.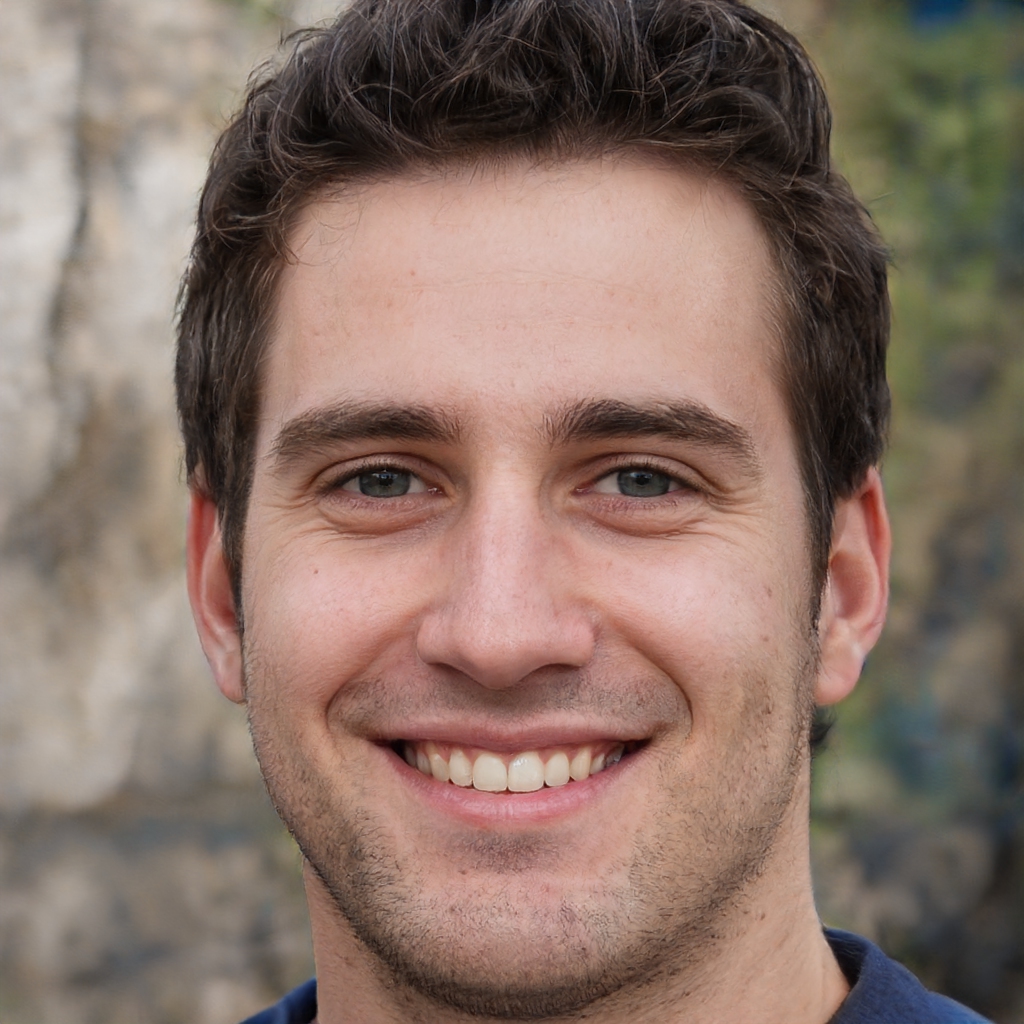 Florence, aka Flo, is the lead editor at keto.fm. Obsessed with nutrition, Flo used the keto + a one meal a day (OMAD) diet to lose 50lbs in under half a year.
After experiencing the benefits first, both mentally and physically, he became one of the many keto ambassadors online.
He is currently working towards becoming a NASM Certified Nutrition Coach.
Is reduction in appetite beneficial for body weight management in the context of overweight and obesity? Yes, according to the SATIN (Satiety Innovation) study [↩]